AWS re:Invent 2021 was an especially unique event, as it was the industry's first big in-person event since the start of the pandemic. After nearly two years of virtual events, being able to walk the expo halls in-person was an adjustment to say the least. We can't understate how meaningful it was to see colleagues, customers, partners, and friends again, and while there's still a ways to go before in-person events feel normal again, this was a huge step towards showing that we can do them safely. Thanks to everyone who helped make this year's re:Invent a safe, comfortable, and fun week!
Now that we've had some time to decompress, we want to look back at some of our favorite moments, highlights, and announcements from this year.
Return to in-person experiences
The best part of re:Invent 2021 by far was being able to meet in the same room together. We've all done the best we could to move virtual over the past two years, but Zoom rooms, Slack channels, and email chains just can't match the energy of meeting in person. The hallways and expo hall were lively, and despite a lower overall attendance, this event had the same positive energy as previous events. It was great seeing everyone being safe and considerate, especially as we're all still adjusting to travelling and meeting up together.
This was also a reminder of the importance of getting remote teams together. Many organizations struggled to adapt to fully remote work, and as travel stopped, so did the ability for teams to get together. Now that travel is opening up again, this is a great time to start planning team meetups and outings.
And speaking of in-person outings, thank you to everyone who came out to our DevOps After Dark party! We had a great time hosting along with Granulate, Sysdig, Coralogix, GitLab, and PagerDuty. ​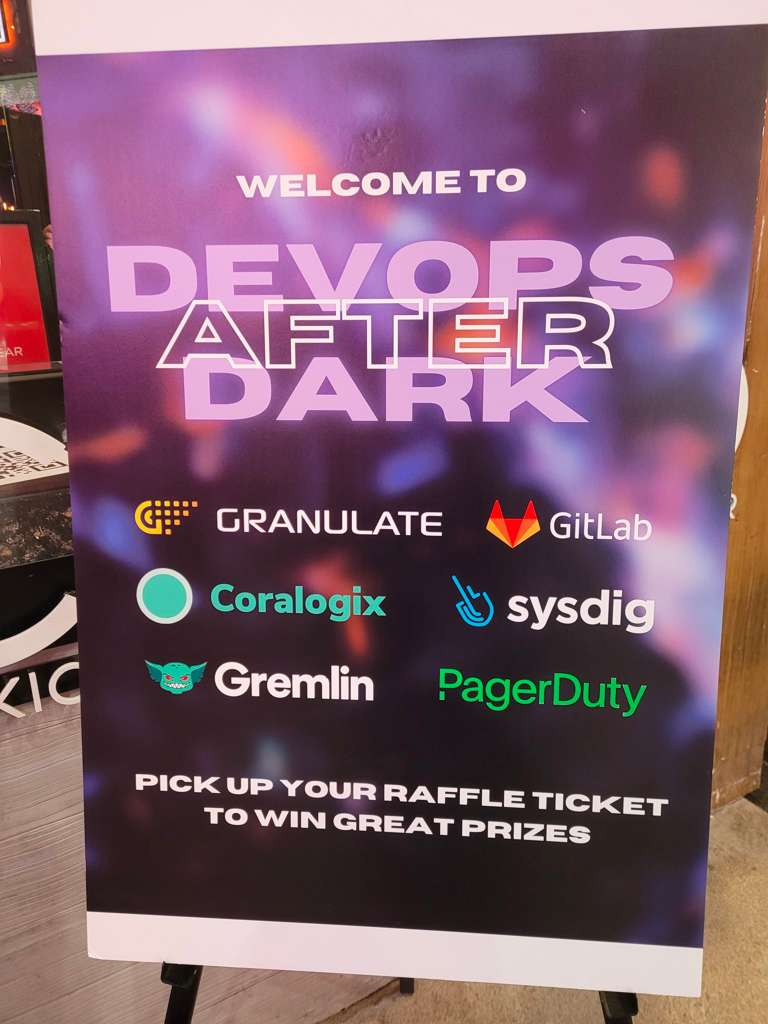 Celebrating a successful AWS Financial Services GameDay
Gremlin partnered with AWS to build the first ever AWS Financial Services GameDay, and it was a huge hit! Hundreds of attendees from leading enterprise financial services organizations learned how to accelerate their migration to the cloud using AWS, and how to build applications that are resilient to failure using Gremlin. Hats off to the AWS team for a great event!
Our Financial Services customers found the FS Gameday at re:Invent 2021 to be instrumental in helping them understand how to build for the industry. The capabilities of Gremlin, Refinitiv, and AWS were instrumental in helping customers learn how enterprise Financial Services organizations can lean into the cloud to achieve business outcomes. Attendees learned not only what cloud services can do, but also how to build on AWS.... all while ensuring their environments were resilient to myriad outages and unforeseen events. We are thrilled to continue efforts with our partners to help AWS customers fully adopt the power of cloud, understand how to deliver business benefits using it, and design for reliability throughout their environments.
Peter Williams
Head of Partner Technology, Global Financial Services
GameDays are key to building a collaborative Chaos Engineering practice, and we want to make this practice accessible and available to everyone. We're tentatively planning additional GameDay events throughout 2022. In the meantime, you can learn more about Gremlin GameDays on our website. If you missed this event and want to get hands-on experience using Gremlin, you can also sign up for one of our upcoming bootcamps.
Chaos Engineering is going mainstream
One of the more exciting trends we noticed was the high level of awareness of Chaos Engineering. Most of the folks we spoke to already knew what Chaos Engineering was, and why it's important. This lines up with what we saw in our 2021 State of Chaos Engineering report, which showed the number of searches for "Chaos Engineering" grow by almost 350% between 2017 and 2020. It's likely that much of this interest and adoption accelerated as a result of the pandemic, and the growing demand for reliable business and consumer applications.
Another trend we've noticed among teams that have already adopted Chaos Engineering is the desire to grow the practice within their organizations. Finding the right tool is only the first step; encouraging your teams to actually use the tool and practice Chaos Engineering is just as important. Some of the strategies we've heard from successful teams include:
Continually communicating the reasons why Chaos Engineering is important throughout the organization, especially to practitioners, whether through documentation or top-down directives.
Creating Centers of Excellence (COE) or Communities of Practice (COP) to own and drive the practice.
Gamifying Chaos Engineering by tracking successful attacks and creating cross-team leaderboards.
Having performance discussions with your teams.
There are many strategies you can use in addition to these, such as training your engineers in the practice of Chaos Engineering, practicing failure using GameDays and FireDrills, and using post-mortems to learn from past mistakes.
Reliability-focused announcements and sessions
As is tradition, AWS announced several new products and features. One that caught our attention was real-user monitoring for CloudWatch. Observability is a key component of Chaos Engineering and operating distributed systems, and the addition of real-user monitoring (RUM) makes it easier to gain insights that directly reflect the end user experience. Gremlin already provides automatic CloudWatch integration and the ability to link your metrics to your attacks and Scenarios, and with RUM, it's easier than ever to correlate experiments to their impact on your systems and your user experience.
There were also quite a few talks focused on reliability and resilience, but here are some of the ones we enjoyed the most:
Conclusion
It's always difficult summarizing a massive event like re:Invent in a single blog post, especially since this event was unique in many ways. We hope this marks a return to even more in-person events. Whether you were able to join us in Vegas, tuned in virtually, or couldn't attend this year, we hope to see you at next year's re:Invent!