Today, we're thrilled to announce the launch of Gremlin's Enterprise Chaos Engineering Certification!
We knew Chaos Engineering was in high demand when we first launched the Gremlin certifications in 2021. But we had no idea our Chaos Engineering certification programs would be such a success.
There's a reason: the market is looking for professionals who know how to wield Chaos Engineering well, and Gremlin's certification has become the gold-standard to learn the principles of Chaos Engineering and demonstrate proficiency.
By the numbers:
Nearly 15,000 learners enrolled across two courses
Over 6,000 learners earned at least one certification
An incredible 96% of learners shared their credentials with their social connections, employers, and recruiters
Nearly 60% of learners are Site Reliability Engineers (SREs), Senior SREs, or SRE Managers
But more importantly, we've heard countless stories from learners who have been able to apply what they've learned to build more reliable and resilient applications in their organizations.
While much has changed since 2021, one thing has remained consistent: Chaos Engineering continues to grow as a practice, and engineers are increasingly interested in improving the reliability of their systems. With this in mind, we redesigned our certification program from the ground up to focus on applications in today's enterprise organizations. Now, we're introducing our latest certification: the Gremlin Enterprise Chaos Engineering Certification, or GECEC.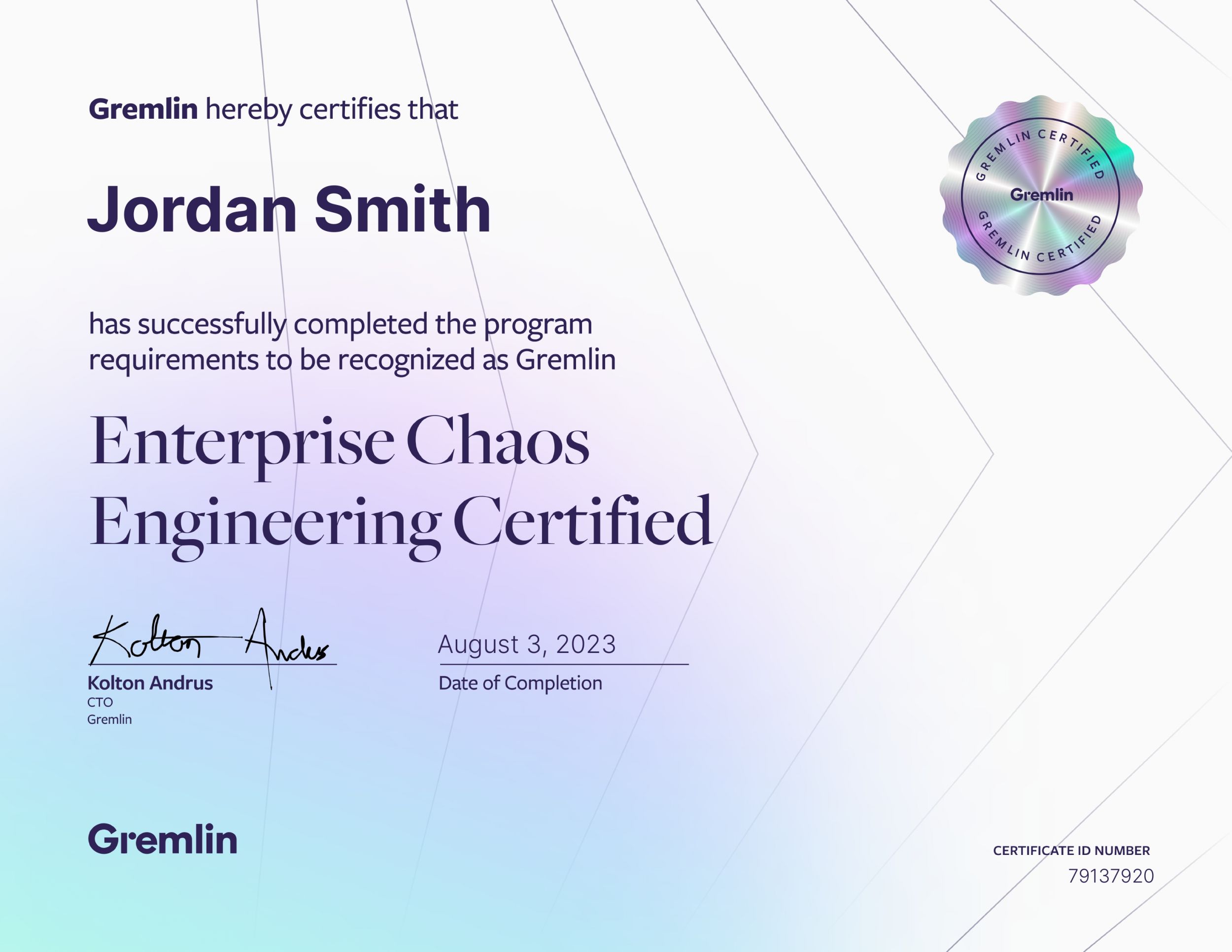 Bringing the most important aspects of Chaos Engineering to everyone
The GECEC certification serves two purposes:
First, it combines the key parts of the GCCEP and GCCEPro certifications into a single, comprehensive program. This new course teaches you the full gamut of Chaos Engineering, from what "fault injection" means to safely running experiments on production enterprise systems. We've also trimmed down the length of the GCCEPro section on the certification: on average, it took over 3 hours for learners to complete the GCCEPro course. For the GECEC course, we're focusing on the essentials and expect it to take around 1.5 hours to complete from start to finish.
Second, it reflects the updated Chaos Engineering landscape. While the core concept of Chaos Engineering hasn't changed, the industry has: there are more tools, more experiment types, and more methods of injecting faults. Automation, integrations, and scale are more important than ever. The new course still uses Gremlin content and examples, but the focus is less on product-specific knowledge and more on general-purpose knowledge that you can apply anywhere.
You don't need any prior experience with Gremlin or Chaos Engineering to take this exam. We'll give you everything you need including explanations and screenshots. You can also leverage Gremlin's library of free training materials, including tutorials, webinars, and other resources at any time during the course. And if you do want to see the product to understand how these concepts work in practice, you can always sign up for a free 30-day trial.
Showcase your reliability expertise
Just like before, when you complete the course, we'll issue a certificate through Accredible. From there, you can download a PDF version, embed it into your website or emails, or post it to LinkedIn, Facebook, Twitter/X, or any other social network of your choice.
If you've already taken the GCCEP or GCCEPro and have your certificate(s), don't worry! Those aren't going anywhere. You can still download or link to them in Accredible. Plus, you can display your new GECEC cert alongside them to show your years of experience as a professional Chaos Engineer!
Ready to get certified?
Start the course and get your certificate by clicking the button below. If you have any questions or feedback about the course, please let us know!
Get Certified