Unlike so many events that were forced to move online in the wake of COVID-19, Failover Conf was a brand new idea - born out of a novel need. The goal was to spin up a virtual conference that helped everyone maintain a sense of normalcy: to create a space where people could still connect, share ideas, and learn from one another.
Before we look back, we have to start by thanking the thousands of people (8,680 to be exact!) that signed up and participated. We can't put into words the amount of support and love we felt from the community. It was your engagement with us and with each other that elevated Failover Conf from a video feed to a full-blown experience.
We also have to thank the over 40 technology and media partners that helped us make the event a success. We would have never created the same momentum if we'd been doing this alone, and it was a shining example of rising tides raising all ships. (*This is also where we learned an important lesson. More on that later.)
Last but not least, I have to personally thank our team at Gremlin. The amount of time and energy required to produce a virtual event is no joke, especially when this was most of our first time. Every one of you met that challenge with gusto. I am humbled by the amount of care you put into your work and I am honored to work with each of you. (I'm lookin' at you, Karli. 😉)
How we got started
It was on Monday morning March 2nd that the news of Coronavirus was starting to become more serious. We knew it might impact the events we sponsored, but we weren't really sure when or how.
By 3pm Google Cloud Next had moved online. By Tuesday our inboxes were full of emails from organizers that started with, "We're keeping a close eye on the situation…" By Wednesday morning, KubeCon EU had been postponed. The dominos had started to fall and as we threw out months of work on those programs, everyone was feeling the impact.
Our team decided quickly that we wanted to host something for the community. Speakers and attendees alike had just had the rug pulled out from under them and we saw an opportunity to give them a new home.
After all, we're a company dedicated to the idea of resilience. And what Failover Conf (as it would soon be called) could stand for was the importance of resilience, and how that extends far beyond our technical systems to how we, as a community, respond.
Our vision from the beginning was to accomplish a few things:
Prioritize empathy over everything else. As a team who already organizes an annual conference, we knew all too well the amount of work that gets put into organizing an event, and how much our audience depends on events like this to learn new skills. If we didn't approach this with integrity, we'd alienate the organizers we have built critical relationships with. And worse - if we tried to take advantage of such a sensitive moment, everyone would see right through it and we'd piss off more people than we'd attract.
Give speakers an opportunity to showcase their work. Incredibly valuable information gets shared on stage by speakers across the industry at events. Now all those speakers were dressed up with nowhere to go. We wanted to give them a new opportunity to share the work they had already been building and we'd be able to deliver the event faster than if we were asking speakers to build something from scratch.
We didn't want to go it alone. "Rising tides raise all ships" never felt more true than in those first few days of planning. With so many other events teams in the same boat as us, worried about how to adapt to this changing environment, we saw the opportunity to consolidate what would have likely been many much smaller vendor-focused events into one, community-driven event focused on reliability as a whole.
Focus on building a quality program. (Trust the rest to work itself out.) There were so many unknowns in the five days we spent dreaming about, proposing, and preparing to announce Failover Conf. Who wants to attend a virtual event? How would we make it feel engaging and not just like a glorified webinar? How many people can we reasonably expect to register? WHAT ARE WE GETTING OURSELVES INTO? The only thing we knew we could do was trust our vision, and put together a lineup of speakers that would deliver valuable information to our audience. If we built it, they would either come...or they wouldn't. All we could do at that point was our best. We simply had to trust the rest.
By making those key decisions on Thursday, we unknowingly set ourselves up to deliver not only one of the first virtual programs invented during shelter-in-place, but the largest event Gremlin had ever designed or delivered.
We announced Failover Conf the following Tuesday, March 10th, just six days after our first planning discussion.
By event day, we had 8,680 people signed up to join us, blowing by our original goal of 2,000 people by over 4x. We delivered a virtual program with thirteen speakers to over 3,400 people who tuned in live. Folks stayed with us for an average of six sessions (3.5 hours). Despite going live at the same time as an internet outage and experiencing a handful of audio issues, 97% of attendees said it met or exceeded their expectations. We wrapped the day by joining our #remote-office Zoom and having a drink together (even though we were apart).
Some of our favorite highlights
Hearing from you
One of our favorite parts about doing a virtual event live was the ability to interact with everyone in real-time. While a virtual event certainly can't replace the connections we're able to make in-person, it was exciting to feel a sense of community during this time of isolation. Attendees were able to share insights, comment on talks, and catch up with peers from all over the globe in the Failover Conf Slack in a way that they might not have been able to at an in-person event. Attendees were able to share tips, get nostalgic, and connect (or reconnect!) with peers throughout the course of the day. Below are a few of our favorite moments from Slack and on social.

---

---

---

---

---

---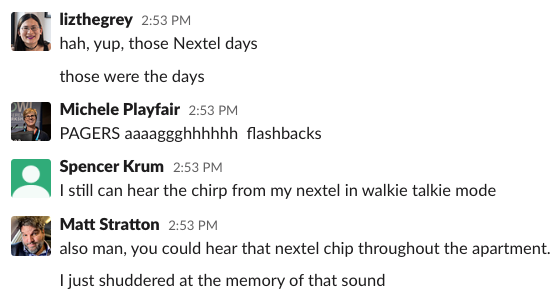 ---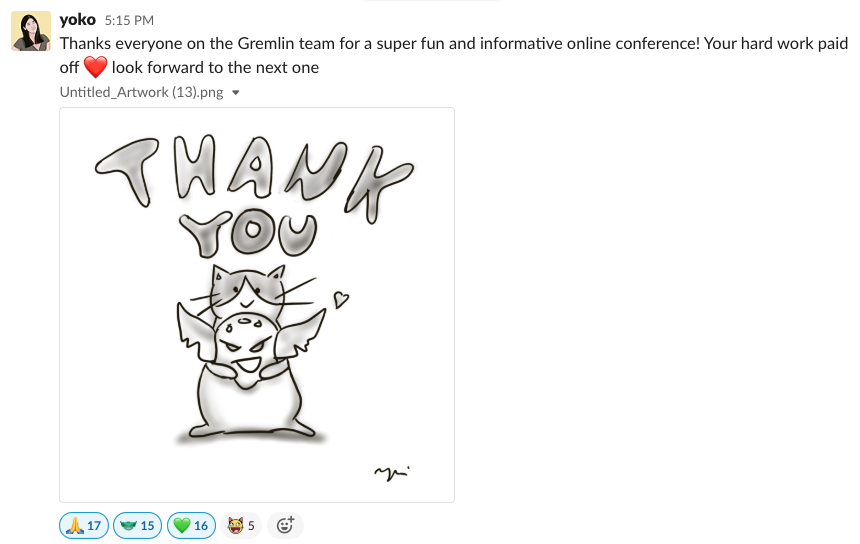 Reliably awesome talks
With over 100 submissions to our CFP, we could have easily filled multiple days with content. Here are a few of our favorite takeaways. Special thanks to Minds Eye Creative for the infographics!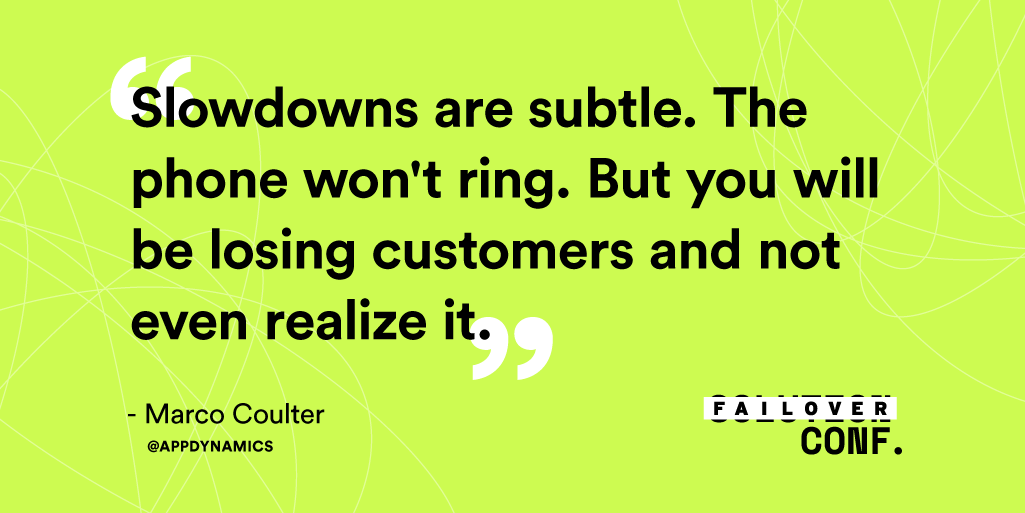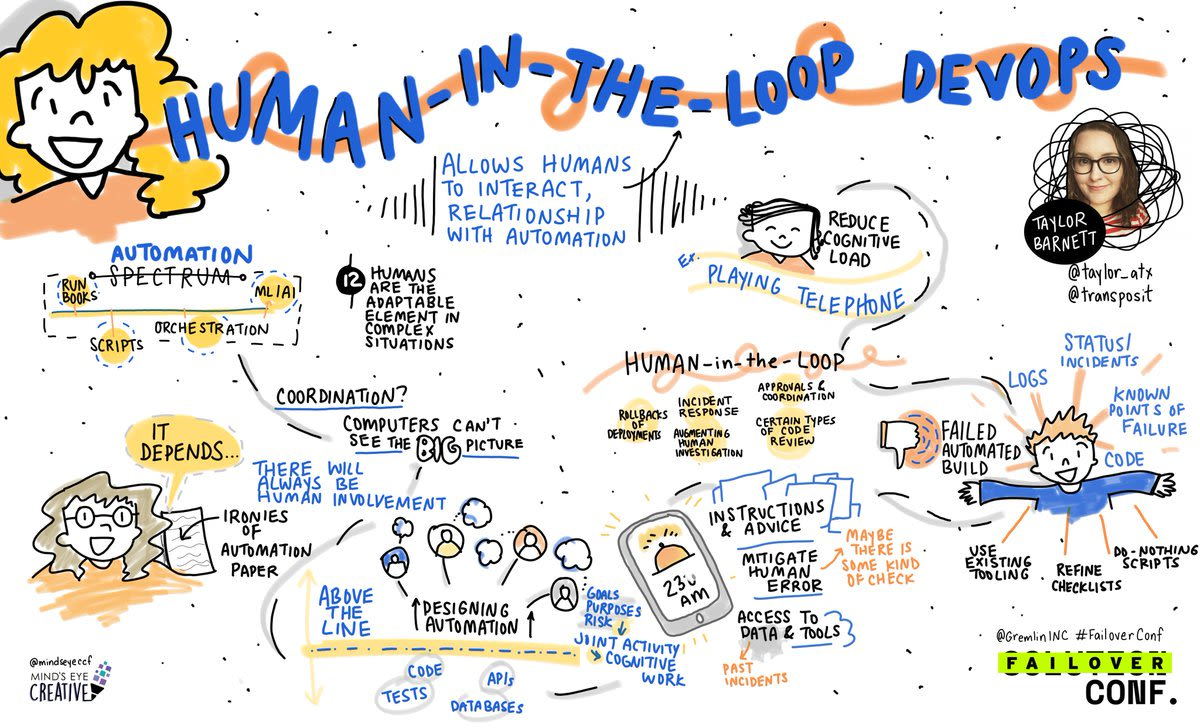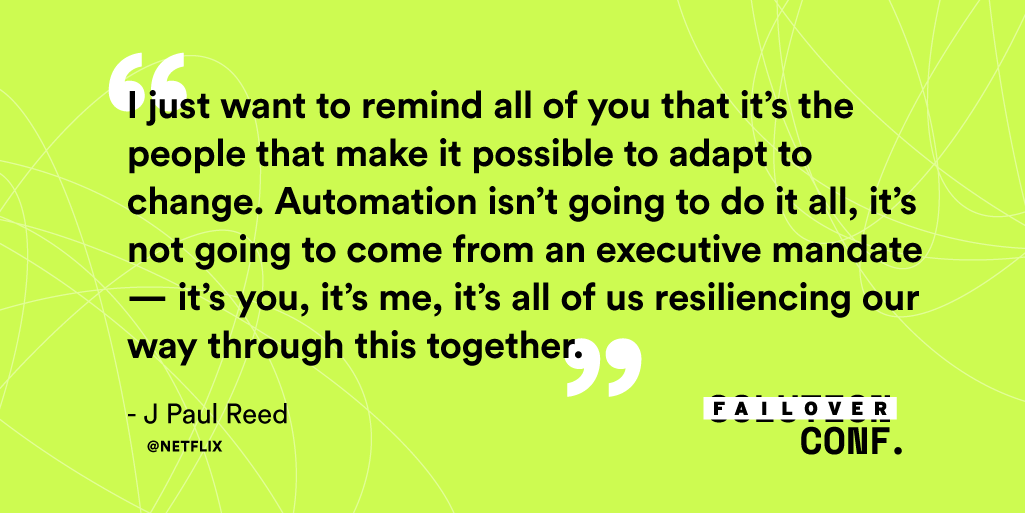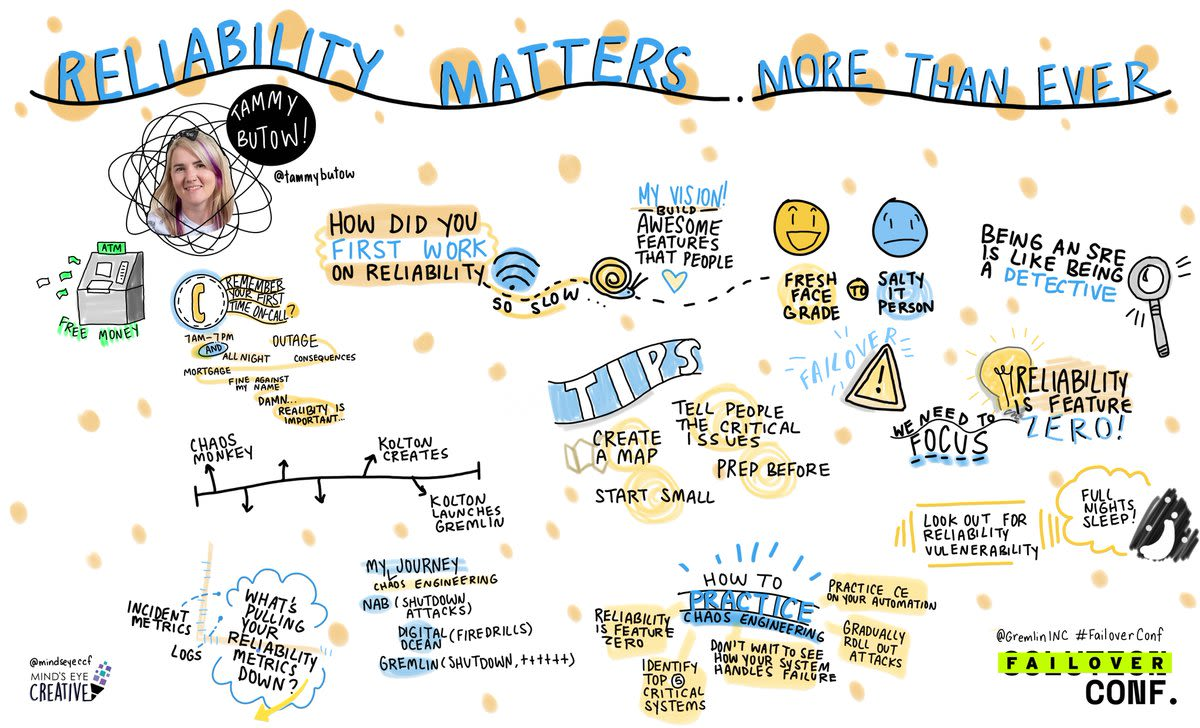 An important lesson
We heard feedback after the event from a handful of folks who were unhappy with the volume of emails post-event. Events people are in the experience business, so we always appreciate you sharing how we can improve.
Our Failover Conf partners did not pay to participate, but rather put in the elbow grease to spread the word and help make this event a success. It was through their hard work that we felt they earned the right to contact you after the event, just like they might after in-person conferences we're all used to attending.
We truly did our best to make this clear to all of our attendees in the registration form, on Slack, and during the live event but I am sorry that we missed the mark here. We have taken your feedback into account that some of the follow up was more of a burden on your inboxes than you expected and we will definitely change the way we approach this in the future.
Videos are LIVE!
If you missed the big day, or are ready for a replay, all of the talks are now available online here.
Stay safe and we hope to "see" you all again soon!