Today, Gremlin is excited to announce the ability to share a Scenario across your entire organization. This allows you to build up a library of reliability exercises that are customized to your company's applications and technology.
If you've created a chaos experiment to reproduce an incident or identify reliability gaps in your applications you can now make it available for your co-workers. Sharing Scenarios enables you to easily create a templated Chaos Experiment that everyone can leverage across your company. You can find these shared Scenarios under Shared With Me in the Scenarios menu. All users need to do is click on the template and add their own targets or use it as a guide and customize it.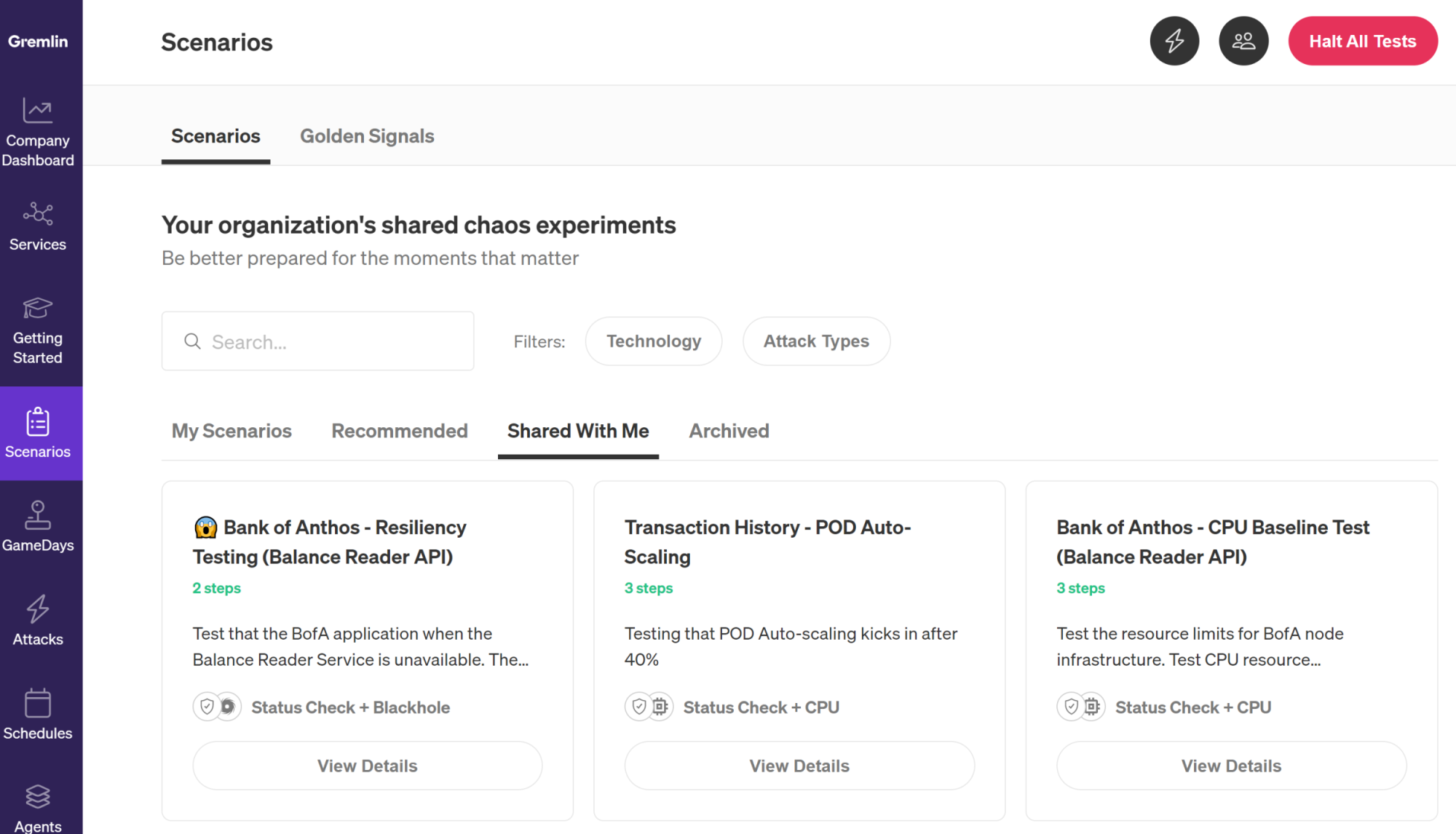 Onboarding and training
If you're an SRE who needs to onboard engineers into Chaos Engineering, you can create a Shared Scenario template that is built with Status Checks and Attacks that show them how to observe fault injection their first time. Create a templated Scenario to help a team validate their alerts are firing in Datadog and triggering a page in PagerDuty then progress to a Scenario that helps them validate dependency failure.
Sharing reliability lessons through re-creating incidents
Reproduce an incident that occurred to validate the fix. Then share that Scenario template so your co-workers or critical dependencies that you rely on can recreate the same incident and validate their resiliency. Better yet, tell them what you fixed so they can validate they don't have the same issue then go and validate the fix through the chaos experiment.
Production-ready applications
Create Scenarios that applications run before launching or on a regular basis in order to demonstrate reliability before going to production. Ensure the teams have their alerts configured, dashboards ready, auto-scaling tested, and disaster recovery procedures validated.
Self-guided GameDays
Rather than having to facilitate GameDays start to finish simply create a bench of Scenarios engineers can pull from to run their GameDay. Core SRE teams can create a series of important Scenarios for app teams to validate reliability and report on learnings.
Share your favorite Scenario with your company today
Simply click on any completed Scenario and share it. Sharing copies the Scenario as a template to the "Shared With Me" section under Scenarios. The copied Scenario keeps the target's blast radius, attack magnitude and any Health Checks. Team Managers have the capability to Share and Unshare a Scenario within a Company and Team Users have the ability to run them by simply adding targets or customizing. Grow your company's culture of reliability with Sharing Scenarios.
For more information about Sharing Scenarios, see the documentation.
If you don't have a Gremlin account yet, request a free trial!